We recommend in-situ (on-site) non-destructive CBR testing of our soil stabilizer as it accurately reflects actual conditions rather than using other in-door laboratory testing methods which are inaccurate for our purpose. 
Here is a partial list of recommended testing equipment.
1. Clegg Impact Soil Tester (Non-destructive)
The Clegg Impact Soil Tester, also known as the Clegg Hammer, is a simple to use device consisting of two basic components: a flat-ended cylindrical mass and a guide tube. The mass, i.e. the hammer, is manually dropped from a predetermined height.
The Clegg Hammer was developed by Dr Baden Clegg in the Department of Civil Engineering at the University of Western Australia in the 1970s.
The Clegg Hammer has wide application to testing for design, construction or evaluation in the areas of pavements, earthworks and turf surfaces.
The impact of the hammer causes an electronic output to a digital display. The output is based on the peak deceleration of the hammer's impact with the surface in units of tens of gravities. Four successive blows of the hammer on the same spot constitutes one test, called a Clegg Impact Test (CIT). The CIT provides a soil strength/stiffness - or "hardness" - parameter known commonly as Clegg Impact Value (CIV), also known as Impact Value (IV) - (refer to ASTM Standard D 5874) - and notation is as CIV, CIV/M, CIV/L, and CIV/H for the "Standard," "Medium," "Light," and "Heavy" Hammers.
The Clegg Impact Soil Tester is being used worldwide by road authorities, local government, consulting engineers, contractors, construction & mining companies, testing laboratories, universities, research institutes, the military, etc.
Principally regarding CIV obtained using the Standard 4.5 kg Clegg Hammer:
For Pavement Design- CIV is similar in concept to the California Bearing Ratio (CBR). CIV may be used as an alternative to CBR in both laboratory and field on unsoaked samples. CIV may be converted to a Clegg Hammer Modulus (CHM), analogous to an elastic modulus.
For Construction- CIV provides a means of process control by monitoring the effect of roller passes and checking variability. Percent compaction may be estimated by determining the CIV (termed an "As Compact Target CIV") needed to achieve the desired density level for the given material and field moisture content.
For Evaluation- CIV may be used to ensure adequate basecourse strength before sealing or proceeding with subsequent layers. It may also be used to monitor the effect of environmental changes and to investigate pavement failures.
Low Cost- An Impact Test requires only one person and less than half a minute to perform using portable apparatus. The Impact Value is displayed directly and instantaneously on the Hammer's meter upon completion of the test. The Clegg Impact Test can be performed by the supervisor himself or by the man on the job. Sensible application at the time of construction can reduce the risk of costly overworking or reworking.
2. Dynamic Cone Penetrometer
Humboldt Dual-Mass DCP (Dynamic Cone Penetrometer)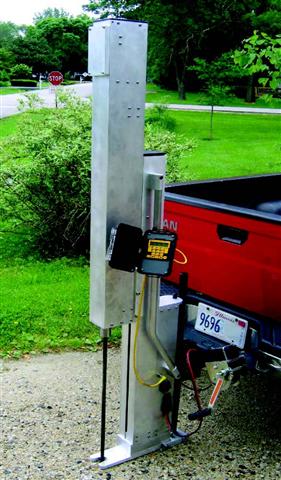 KSE SAPPER (Semi Automated Portable Penetrometer Electronic Recorder)
California Bearing Ratio (CBR) test with the KSE SAPPER
Step 1: Lowering the SAPPER unit to survey position. [flv:http://ecobase.com.sg/wp-content/uploads/2011/02/1-SAPPER_Automatic_DCP_lower_unit_to_survey_position-480X360.flv 480 360]
Step 2: Automated processing for CBR readings. [flv:http://ecobase.com.sg/wp-content/uploads/2011/02/2-SAPPER_Automatic_DCP-480X360.flv 480 360]
Step 3: Raising the SAPPER unit for recovery. [flv:http://ecobase.com.sg/wp-content/uploads/2011/02/3-SAPPER_Automatic_DCP-480X360.flv 480 360]
3. Plasticity Index (PI) Test (Testing Atterberg Limits)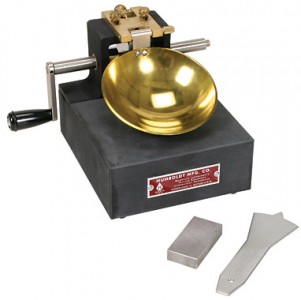 Liquid Limit Apparatus (Casagrande Method) 
Fall Cone Apparatus