EcoPlus™ Dual-Component Soil Stabilisation (DCSS) System is designed to be applied as a dual component system comprising of a concentrated liquid and a dry powder component. The two components are applied in steps and thoroughly mixed with in-situ soil.
EcoPlus™ DCSS System allows for the treatment of a much wider range of soil types including highly plastic/clayeym, non-plastic or sandy soil while achieving higher loading capacity, greater shear strength and durability.
EcoPlus™ DCSS System can be adapted for use with all traditional stabilizers or cementitious related stabilisation works allowing for lower stabilising agent//cementitious requirements. Please contact us for more details.
Ecobase Stabilised Earth Trail
Advantages of the EcoPlus™ DCSS System.
Enhances the performance and durability of traditional stabiliser installations.
Allows traditional soil stabilisers to be compatible and operate in a wider range of soil types including high PI, non-plastic, clayey, silty or peaty soil.
Creates a stronger (higher strength) stabilised material compared to using traditional stabilisers alone. Up to 5 times stronger than using cement alone.
Reduces the amount of traditional stabilisers required while achieving the required target specifications.
Reduces amount of shrinkage and cracks.
Reduces water infiltration.
Increased weather resistance.
Increased durability.
Reduces the need for undercut and backfill.
For more details, please contact us.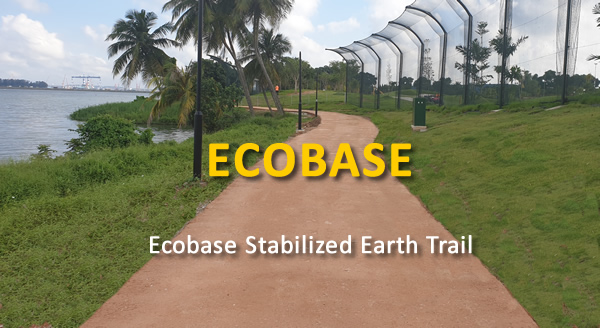 Ecobase Stabilised Earth Trail