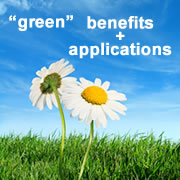 Environmental-Friendly
ECOBASE™ soil stabilizer is environmentally safe and does not require any hazardous warning labels; it may be stored for extended periods of time in steel containers. It is non-corrosive, non-flammable, non-allergenic and non-toxic.
ECOBASE™ is composed of virgin raw materials and contains no recycled materials or by-products. It contains a corrosion inhibitor, rendering it 100% percent less corrosive than tap water, greatly aiding and protecting metal equipment.
When used as designed and directed, ECOBASE™ soil stabilizer meets all U.S.A. Environmental Protection Agency (EPA) requirements and standards.
"Green Benefits" for the environment
Non-hazardous
Non-leaching
Vegetation safe
Non-toxic
Non-flammable
Non-corrosive
Non-tracking