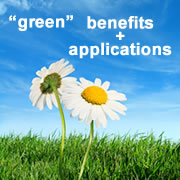 Environmental-Friendly
ECOBASE™ Soil Stabilizer (Ecobase) is environmentally safe (even in its concentrated form) and does not require any hazardous warning labels; it may be stored for extended periods of time in steel containers. It is non-corrosive, non-flammable, non-allergenic and non-toxic.
Ecobase is made from virgin grade raw materials and contains no recycled materials, industrial by-products and/or petroleum distillates.  Ecobase is less corrosive than tap water, greatly aiding and protecting ferrous metallic equipment.
When used as designed and directed, Ecobase meets all U.S.A. Environmental Protection Agency (EPA) requirements and standards.
"Green Benefits" for the environment
Non-hazardous
Non-leaching
Vegetation safe
Non-toxic
Non-flammable
Non-corrosive
Non-tracking